At the moment of typing this, I'm sitting poolside in one of the most beautiful resorts I've ever personally experienced, in Greensboro, North Carolina. I'm listening to the sound of a waterfall that flows into the pool, and I am playing Kenny G's Christmas album. Also, I'm the only one here.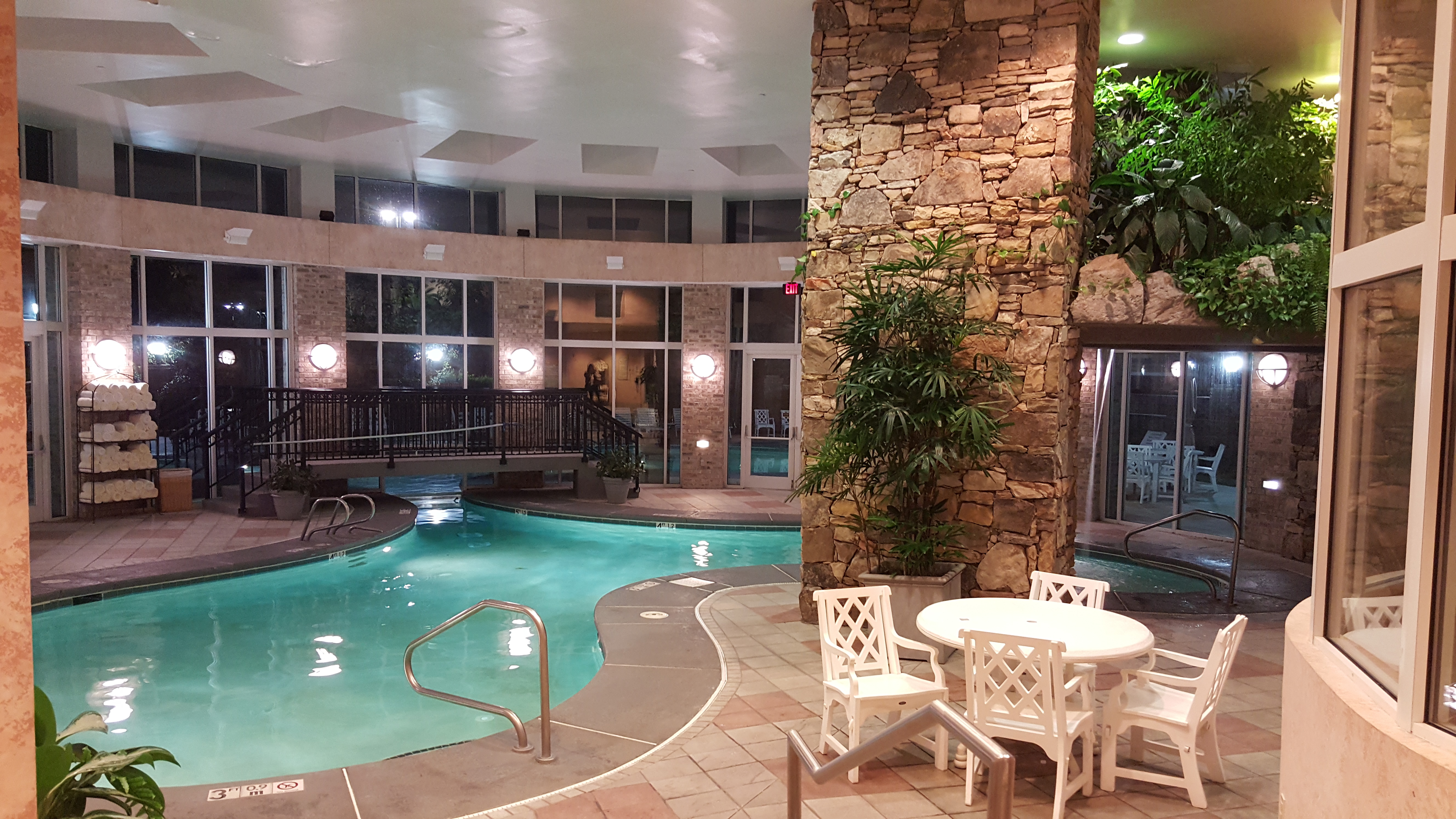 That may be a bit dramatic of an entrance, but it's also the truth. At this very moment, I am at peace. And emotional.
2015 has been a hard year.
This year was the first year I haven't been at home (Houston, Texas) for Christmas.
Christmas is probably my favorite holiday. I love the weather (even though "winter" really wasn't a thing this year LOL), the atmosphere, the cheer, the music, the spirit, blah blah blah. The time with family, food, fellowship, time off from work (I work in education!), all of that makes me very happy. And as I've said before, it's always been experienced at home for me.
2015 has been challenging. It's definitely had it's ups, but the downs have been DOWN.
It is, for this reason, that when my mom first asked me what I thought about leaving Houston for Christmas, I didn't hesitate to say, "Let's go."
My mom loves Christmas as well, however for her, Christmas equals work. My parents' home is traditionally the spot for Christmas dinner. It's not unusual for 30-40 people to be over. And if you've ever hosted something like that, then you know IT'S WORK. Yes, the family helps and does whatever is asked/needed, but still…it's always been work for her. Every single Christmas I've watched her work and cook and clean and prepare, etc. All with a smile, because she loves it.
But this year, I had the pleasure of looking over at her and seeing her sit down, relax, listen to music, talk, laugh, and watch the basketball games on Christmas day. No planning, no figuring out what's gonna be placed where, no trying to strategically keep all the food warm, no constantly checking to see what's getting low to refill it. It was strange. LOL. But I loved seeing her relax.
We celebrated with my dad's side of the family this year, and my cousin and his wife were the hosts. They had everything taken care of. When my mom asked what she could do to help, she was told to sit down. I've NEVER seen my mom just sit down and relax at Christmas. Never. It was a sight to see. As challenging as 2015 has been for me, it's been magnified for her for many reasons.  I don't know why it was so important for me to see her relax and be easy, but it really really was. It did me so much good.
Spending this time with my dad's side of the family was good for me as well. I've never been as close to his side as I have been with my mom's side, but you wouldn't know it from this trip. It was as if I've talked to every single one of them every single day for the past ten years. My family is full of some of the kindest, warmest, most accommodating people.
Watching my dad smile and enjoy the musical selections (my family is full of music on both ends. When we're together, there WILL be piano performances, singing, etc!) warmed my heart. And again, giving my mom a release from her normal routine was REALLY good.
My emotions were high during this trip, as there were a few things that hit me (that I've probably been avoiding). These things had me in tears when I woke up Christmas morning. I then chastised myself and prayed, but then I went back to my tears and decided to let myself have that moment. It's normal. So I stayed in that emotion. And just thanked God that my family was able to enjoy this time.
The first draft of this post basically put everything out there. However, I think I was about to share information that's not really mine to share, and I'm uncomfortable with that. I'm not trying to be mysterious or anything, but I do want to make sure I'm respectful.
My first night here, I was on the phone with my best friend, talking about how my luggage got lost on the flight (that was a nightmare!) and the frustration with that. She shared in my sentiment. However, before we got off the phone, her tone slightly changed to a more thoughtful/insightful one. She told me that she wanted me to make sure I focus on what's important, which is the time with my family. She told me to enjoy myself and to soak it all up, lost luggage and all.
So I did.
This vacation has been nothing short of amazing. And even though there was a considerable amount of raw emotion I experienced and will have to deal with, I don't consider that a bad thing at all. I consider it a blessing. And I'm so thankful for the experience and the time with my family.
All in all, I don't know if there's a real "point" to this post, other than to just share my experiences like I do all the time anyway.
If you've made it this far, thank you for reading! I hope your holiday season is going well and you're experiencing as much peace as possible, no matter the circumstance. If not, there's still time to turn that around!
Thanks again.
Peace.