In all honesty, the ONLY reason I watched this was because of social media.  If you aren't on Twitter, one of the BEST times to be on there is when there is an awards show.  It's awesome. LOL.
I'm not going to talk about everything, as I am really writing (most of) this off of pure memory.
First, I'll address Keke Palmer:
That's how I feel.  It was awful. Where are her friends to say, "No no no…this isn't a good choice."  And as one of my friends pointed out, as the evening progressed, you could see the crease in the…material….from where she was sitting down.
That is all.  Moving right along.
Chris Rock:
The best part was when he went to that monster truck situation.
But "National White Association" was sobering.
He had some other moments in there. I just can't take him too much because he yell talks and I can't stand it.
August Alsina:
So I agreed with this tweet:
If you're crying over a BET Award you really don't want much in life

— Mellow (@mellow_blue) June 30, 2014
And while I still agree with it, I will also say that I was kind of harsh on him.  For HIM, that was an accomplishment.  It doesn't matter that a BET Award isn't highly regarded in the music community (more on this later).  For HIM, that was a big moment and from what I understand it was much deserved because apparently he has a good album.
With this, I also have to understand that this generation is actually loving what I consider to be trash music unworthy of certain prestige.  So while I may not agree, I also have to keep in mind of what the popular thing is at the moment. I'm a work in progress.  I also have to consider who was in the category (Best New Artist) with him. So yeah.
Chris Brown:
I. LOVED. THIS.
I did.  I enjoyed watching Chris Brown take the stage.  I'm rooting for him to make a comeback.  He looks healthy, and while people criticized him for not dancing like he did before the whole jail thing or whatever, I think he did an AMAZING job.  I'm looking forward to what he has in store for us.
Annnnd I didn't have to wait too long because as soon as he got off stage, he dropped a new single for us!
Get into it!
Robin Thicke:
*sigh*
This is how my TL felt about Robin Thicke last night (I apologize for the language lol):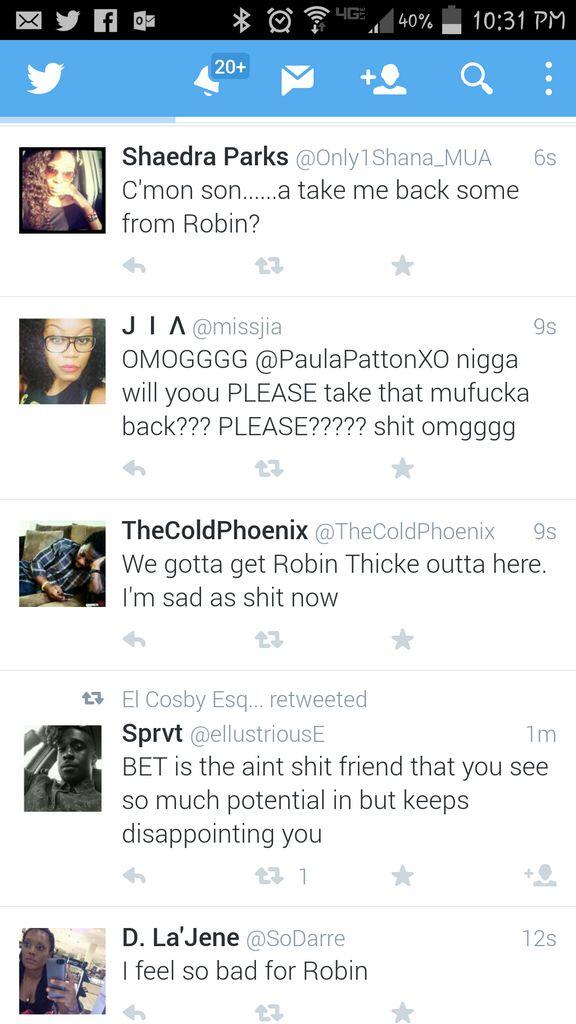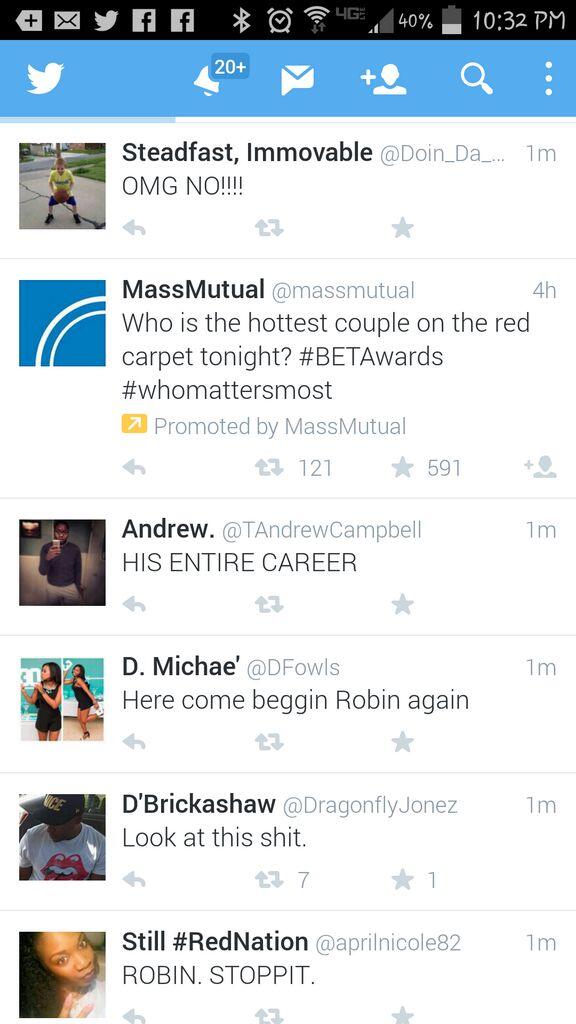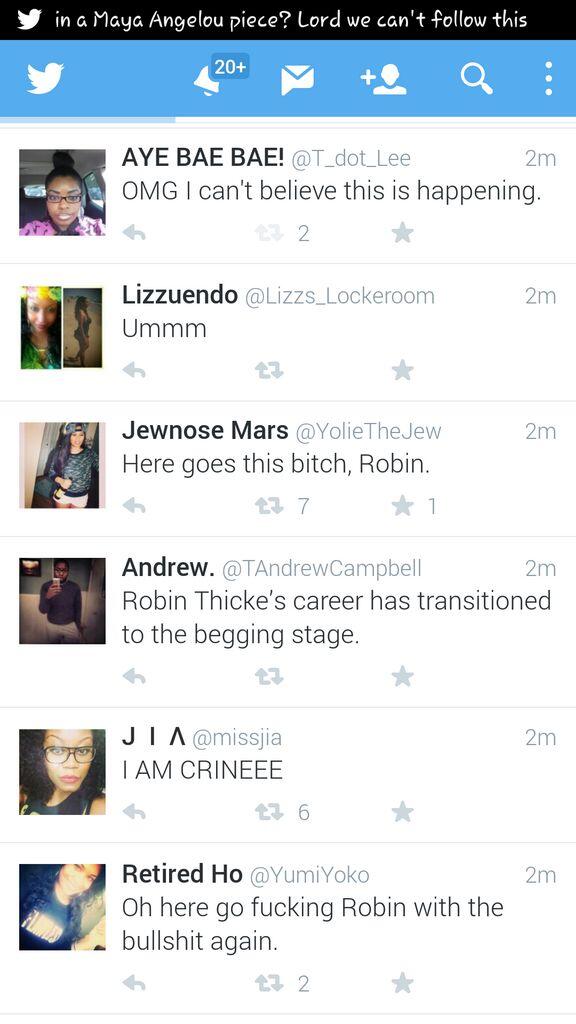 So yeah.  That about sums up how we feel about that.
But then after his performance:
To my #ForeverLove pic.twitter.com/yXXzrcwuS3

— Robin Thicke (@robinthicke) June 30, 2014
I just…..
It's time to stop doing this publicly. Cause…
Paula Patton somewhere like pic.twitter.com/nEkSNMQVNR

— Pashmina (@IAmBumblebee) June 30, 2014
Pharrell's win OVER BEYONCE:
Best Video of the Year.  Beyonce had both "Partition" and "Drunk In Love" on there.  And I thought she was a shoo-in…until I saw that "Happy" was nominated as well.  I knew what was coming.
Now, don't get me wrong, I'm not mad at "Happy" winning.  But.  I also think that they judged more on the song than on the video.  If we're judging on video alone?
There's no doubt that "Happy" has made a national and international impact.  It's feel good music and I absolutely love it.  And for that, I can't be mad.  But still…..
Pharrell had a big night!  Congrats to him!
Lil Wayne:
WTH is going on in this dude's life other than lots and lots of drugs?  Now…when he came on stage and went to his second song (I think) I was like, "Oh wait, if I don't look at him I'm actually liking this song!"  I just want him to stop wearing his pajamas to do nationally broadcast performances.
And the disrespect of having earbuds in while the Lionel Richie tribute was going on?  And on stage while accepting the Young Money best drugged out group award or whatever? Ugh.
I. can't. even.
Nicki Minaj:
Speaking of which….what was going on with her last night?
Let's talk about the first performance?  How do we go from the Nicki on the motorcycle to the Nicki with bunnies floating around and a ballet dancer?  BTW – to understand that performance you would've had to have been currently in a drug induced hallucinatory episode.  That bunny almost killed me.
And her speech during the group award?  What was that? So much shade…but to who?  It's speculated that it was all for Iggy. Hmmm.   And the "I'd rather die than calling an ambulance cause it'll be on TMZ?" What? I mean, if it were symbolism then I could understand, but she was serious…and no. Not die.
She was just….weird.
90s music tribute:
This was AWESOME.  And it was also wayyyyy too short.  Like WTH????
But yeah, when "I Wanna Sex You Up" came on I had a moment.  And Silk!?!?!?!?! Troop!?!?!
MORE OF THIS, BET! MORE MORE MORE!
Gospel Award:
Tamela Mann is cool.
Buuuuut Hezekiah Walker should've won for "Every Praise" alone.  In fact he should be winning everything everywhere for that one song. My God on today!
Tyrese:
So let me get this straight.
So we have a Tyrese, who can actually sing…doing a tribute to BOBBY WOMACK…and BET cuts him off?
Ok.
Trey Songz:
I missed this because I thought it was the perfect opportunity to go get something to eat.
Lionel Richie Tribute:
Listen. Yolanda Adams took me to CHURCH, do you hear me?  If she would've hit one more note I would've had no choice but to go ALL THE WAY IN!
Lionel Richie is so cool, man. Just easy breezy.
"Soul is a feeling, not a color. Talent is a God-given gift, and not a category." —Lionel Richie
Busta Rhymes:
Busta lookin like a Cheesecake Factory bag lol pic.twitter.com/h9lMmChybj

— Young Picasso (@AirBourne_11) June 30, 2014
TAKE ME TO THE KING!!!!!!!!
It was all fun and games, until I realized that the way we were looking at Busta last night is probably the way people who haven't seen me since college are looking at me.
So yeah.  Back to the gym (and eating better) I go. Today.
That still doesn't excuse Busta tho.  I mean, looking good is basically his job.  And he has the financial means (I think!?) to have people cook for him and trainers and such.
Civil Rights:
This was AMAZING.
Our forefathers REFUSED to be treated and classified as second class citizens.  I am so proud of the generations before me.  And I am so grateful for their sacrifice.
Myrlie Evers-Williams and Phylicia Rashad?  Such excellence, beauty, and strength.  I loved it.
However, as I was watching this I hated that the whole Beyonce and Jay Z "hitting the stage" (LOL) situation hadn't happened yet.  THIS should've been the tone the BET Awards went off with.  And (at the time) was mad that "Drunk in Love" was going to follow (again, LOL).
Beyonce and Jay Z:
I'll just copy my status on FB last night:
I don't understand why people are mad that the Bey and Jay show was via satellite? Y'all just HAD to know they weren't there. There would have been ALL kinds of press about them on the red carpet, backstage, everything. Come on.

What IS disturbing, however, is that BET couldn't pay the $10.99 for the HD upgrade for a clearer picture. SMH had The Queen looking all blurry.
I STILL don't get how people were mad that it wasn't a live performance.
We would've ALLLLL known if Bey and Jay were going to be in attendance. Come on. Don't do this.
I was happy that they did "Partition" and it made me even more excited for July 18th.  I'm. So. Ready.
Then you had illogical humans like this:
Jay-Z is on tour taking a seat on stage while Bey is dancing on a pole. #whoyallpayingtosee

— Terry Brooks (@terry_brooks) June 30, 2014
*sigh*
Like, do I even have to address the fact that "Partition" is BEYONCE'S song?  And that this was ONE PIECE of the entire concert?
Ugh. Shutup.
Moving forward:
Earlier I said BET Awards aren't highly regarded in the music community.  I mean, it's an award show where major artists/celebrities don't even show up (*cough* Lupita *cough*).
And that's because you have moments like Lil Wayne.  And people who don't even bother to dress up.  And people who even show up in wife beaters and du-rags.  TO. AN. AWARDS. SHOW.
It's like *we* don't care, so why should others?
My (serious) question is, what can we do to make it better?
I'll leave y'all with that.
Peace.