Okay.
So I'm sure all of you have seen this by now, but if you haven't, here you go…
Okay.
So.
This is silly. I don't understand why come at all? What was the point? I know he said he wanted to come and tell them face-to-face to respek his name, but….when asked what he was talking about he wouldn't go into that.
And Charlemagne had a REALLY good point. Did you pull up on anybody else like that?
NOPE.
Anyway. It was great for my Friday because Twitter is gonna Twitter…
"M'am you can't return something you opened."

"I wanna talk to ya manager. Go head and get'm, I'll wait." pic.twitter.com/eszdjhEBjv

— X (@XLNB) April 22, 2016
"Coach, I just wanna know why my son doesn't get more playing time." pic.twitter.com/z00PtzD21d

— X (@XLNB) April 22, 2016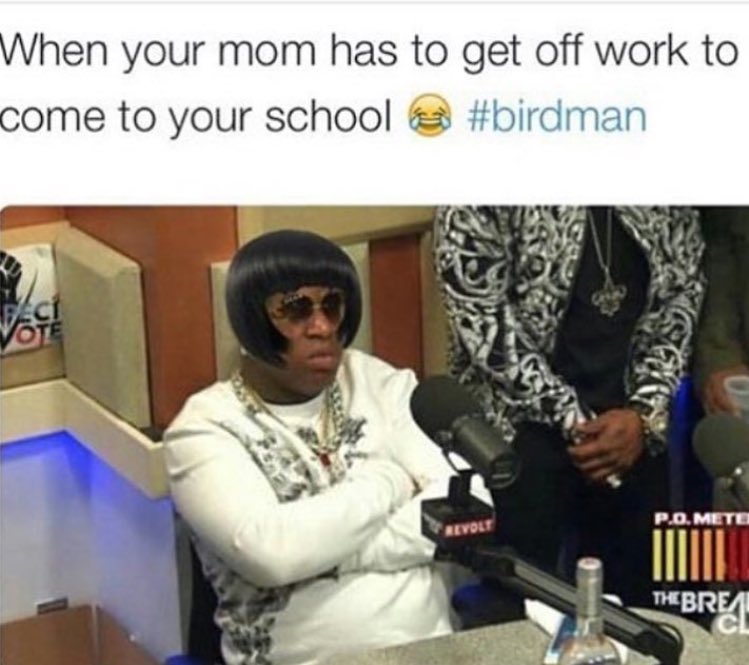 When she came over for Netflix and chill but she put emphasis on the chill part pic.twitter.com/mj7v7wUqJ3

— Cult of Personality (@Phranchize19) April 22, 2016
When you take one of the appt slots to get your bald head shaved and dare anybody to say something to you about it pic.twitter.com/XOWH6C0uV2

— Escoe N. Dahn (@Acquired_Taste) April 22, 2016
When your girl keep asking questions about the movie like it ain't both y'all first time seeing it. pic.twitter.com/DhB6isAVWK

— Anthony (@trillac_) April 22, 2016
When ya homies waiting for the signal y'all rehearsed in the car pic.twitter.com/ru3YPOsuaE

— Mikaela ૐ (@mikaarianna) April 22, 2016
Birdman looking like how I look after I pour a bowl of cereal then discover there is no milk pic.twitter.com/x5skPL6Zxn

— Roxxy Haze (@iamroxxyhaze) April 22, 2016
First of all, don't be callin' here like u some straight up "G", cuz I'll cut ur balls off and hand 'em to u, potna pic.twitter.com/OUamh4Zs06

— 281-330-8004 (@DamnAarielle) April 22, 2016
So u called me down here in the middle of my work day to tell me he's missed to many days of school. pic.twitter.com/Uwa7n940O4

— Slut from Da 90's (@LetAnthonyRock) April 22, 2016
When they tell you the sneakers are sold out but you won't leave the store pic.twitter.com/9dkkHVAqjL

— SoleCollector.com (@SoleCollector) April 22, 2016
Teacher: Thank you for coming to this parent teacher con-
Birdman: What LaDerrick do this time? pic.twitter.com/Dh0FFozviG

— X (@XLNB) April 22, 2016
When you wanna go outside and play but you gotta make your bed first pic.twitter.com/y3woMFwgJh

— PantheR (@____PantheR) April 22, 2016
When they hit you with 3 "Draw 4's" & you don't wanna play no more. pic.twitter.com/pLF45ptKoz

— L. (@LeNaeJ_) April 22, 2016
"I just wanna know why my son is the only one who received detention…" pic.twitter.com/V14LbNi2QH

— Maggie (@Jadelle_Dior) April 22, 2016
Now THIS one has me dead…
LMFAOOOOOOOOOOOOOOOOOOOOOOOOOOOOOOOOOOOOOOOOOOOOOOOOOOOOOOOOOOOOOOOOOOOOOOOOOOO

— Action (@IndigoldenChild) April 22, 2016
When ya hair stylist told you to show up at 10am and its 1:45pm n she still aint there pic.twitter.com/yofxDdivHv

— Trav NEVER Chills (@SKTV_) April 22, 2016
And, my personal favorite…
Me at Starbucks.. pic.twitter.com/XjrMBtxotD

— felixb (@feelickss) April 22, 2016
This has been me all day……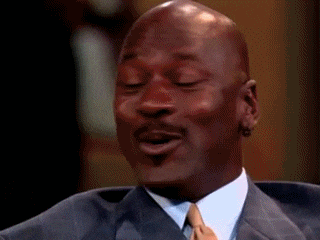 (By the way…ain't this like…the third time Angela Yee has gotten cussed out AT HER JOB within a month?)