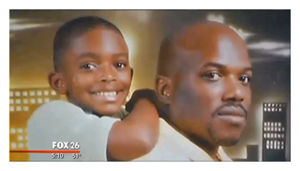 I continued to see this pop up on Facebook, and I continued to ignore it because…no, right? I was sure it was one of those things where the headline was trying to draw you in and then you open it and it was a completely different story.  Some part of me still meant to read it though.  Today was that day (I was specifically asked about it).  And I am mortified.  Surely, there's something missing here, right? Like…what?
Here is the story as reported by My Fox Houston:
Clifford Hall says he's more than happy to pay child support for his 11-year-old son.

"I'm his father it's my responsibility to take care of him," Hall says.

But Hall says when the amount of child support was modified no one told him.

"I discovered for some reason his employer was withholding a large amount some weeks a small amount some weeks a zero amount some weeks," says Hall's attorney Tyesha Elam.

"I didn't want to go to jail basically," Hall says.

So Hall quickly paid almost 3 grand in back child support.

When Hall and his ex were in Judge Lisa Millard's court last November he owed nothing.

"Opposing counsel testified twice that he's all paid up," says Elam.

But the attorney representing the child's mother wanted Hall to pay her three grand in attorney fees and Judge Millard agreed.

Court documents also reveal Hall wasn't following the court's scheduled times to pick his son up for visitation.

Another modification Hall says he knew nothing about.

"The Judge ended up sentencing him to 6 months in jail." Elam says.

"When she said I remand you to the Harris County Jail for 180 days my mouth just dropped," says Hall.

"This entire situation is shocking to me," says community activist Quanell X. "I've never seen one like this."

Quanell X wants the state's judicial board to investigate.

"The court failed the child," he says. "The court failed Mr. Hall the system broke down."
WHAT. THE. HELL!?
Are you kidding me!?  This right here?  This is just another example of the myth of the "justice" system.  Now this man, (seemingly) a good father, has a record.  And it's LITERALLY for doing too much for his son.
There were modifications in the amount of child support and scheduled visitations? Someone correct me if I'm wrong, but the only person who could initiate these modifications is the mother (his ex-wife), correct? Why can modifications be made without making the father aware?
See, I don't know all the details about this situation, but it seems like the mother is being, hmmm…how can I say this without using the "b" word….trifling? mean? manipulative? bitter? All of the above? I'm in awe.  I can't believe it.  And the judge can get the hell up outta here too.
I hate this.  I hate it when men are trying to be good fathers to their children in the midst of the situation not working out with the mother, and they STILL get knocked down.  I hate it when women act out like this. For what? When will it stop? 180 days?  6 months.  6 months of not being with his son. 6 months of not working. And people wonder why there's a mistrust of our legal system? Tuh.
I don't know what else to say.  I hope there is an investigation and I hope that judge gets disrobed.  This is ridiculous and disgusting. Ugh.
UPDATE: January 11, 2013 11:48am
Seems as if there IS more to this story. MUCH more.  And if all of the below is true, shame on the media for not reporting the whole thing. SMH
He owed back support plus legal fees. He paid them, but was still in contempt of court for violating visitation (which cant be altered without mutual consent). He got pissed and walked out of the courtroom, which means you're in contempt of court so THEN the judge handed him jail time. – Elizabeth Ufot

Okay, that makes sense (thanks, Liz). However, if in November he was all caught up, then why, in January, is all of this blowing up now? 

Not questioning you, I believe what you're saying….I'm asking the question in general… – Me (in response to Liz)

No I understand! He still owed the BM's legal fees so he was caught up on support but not on the other costs. Plus he was violating visitation, which he claims was changed without his knowledge. I worked in the family law court, and that makes no sense – Liz
Other comments made about this….
He walked out if court is the reason he has to do the 180days. They have been goin back and forth to court for years. Behind child support and him TRYNA take custody of the baby! He tried to say the mom is unfit BUT she owns her own salon and really don't need his money BUT he is the father so pay up. – Pleshette McClain
WELP.  There we have it.  Shame on the media for irresponsible reporting.  But I guess I can't say that I'm surprised. SMH