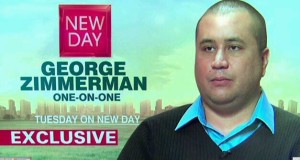 This is what I woke up to this morning: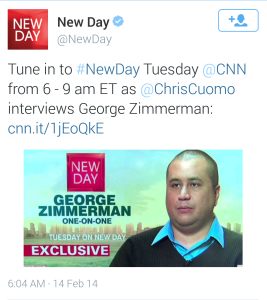 I am disgusted.  Really, CNN?  Really, Chris Cuomo?
However, if I'm going to be real about it, I can't be all that surprised.  This is the same network who hired Mark O'Mara (I think as a legal coorespondant) after the trial.  Chris Cuomo said that with the Michael Dunn trial the Zimmerman verdict was a "no brainer."  If you watch New Day, you can tell that Chris Cuomo isn't here for black people.  He isn't.  And don't let anybody EVER try to give President Barack Obama ANY kind of positive comments.  Oh Chris is there to rain all on your parade.  If you say, "President Obama said the sky is blue!" Chris Cuomo is gonna come back at you with, "Well wait. Let's be honest.  It's actually more of a sky blue.  He wasn't very specific and that is a problem in politics.  I'm an attorney.  So I know how this goes."
Then this popped up: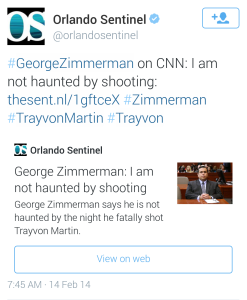 I'm mad, hurt, disgusted….and a bunch of other things I can't even put into words.  I can't believe that he is going to get the chance to get on national tv and basically say he doesn't give a damn that he murdered a child. What does this say about how we view murderers of our black youth in this country?  I'd expect this from Fox News.  We KNOW they, as a whole, don't care about black people.  But I really thought CNN would at least TRY to stay neutral. But.  I've been wrong before.
And Trayvon's parents and brother?  I can't imagine what they're going through.  Prayers up for them for real.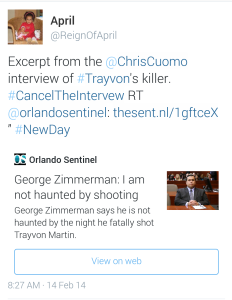 If you're on twitter, April (@ReignOfApril) has started a hashtag. People are tweeting (as pictured above) to cancel the interview (using #CancelTheInterview) and are blowing up Chris Cuomo's (@ChrisCuomo) mentions.
Get into it.