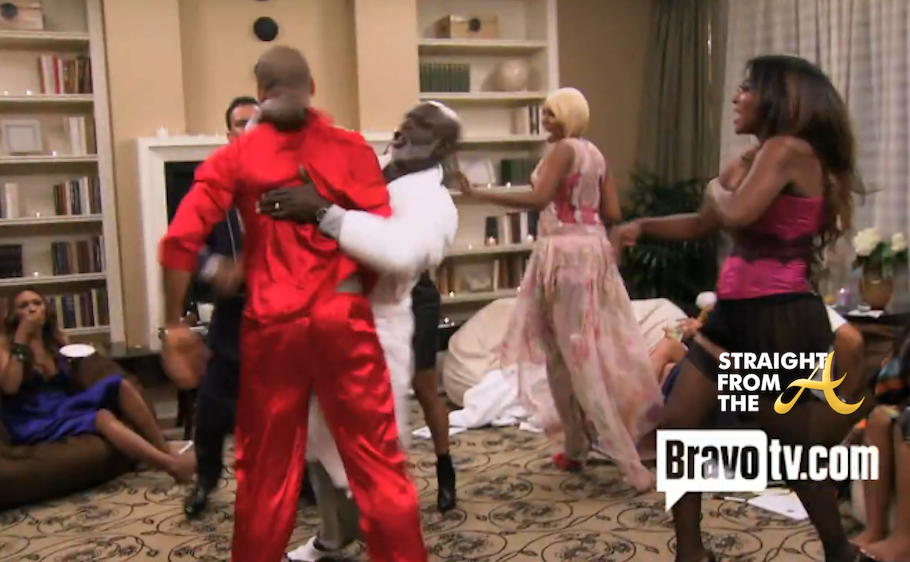 Nene
– She was being messy from jump with inviting Natalie and Christopher. SMH
– Does Christopher Williams ONLY own plaid shirts?
– Guys.  What do y'all think about these strippers models serving the guests?  Personally, I think it's inappropriate.
– Nene is on drugs.
– Did she say, "There will be PACIFIC questions"!?!?!?!  *rewinds*  YES.  Yes she did.  Why is it so difficult for you people to understand that it's SPECIFIC!?
– No, I'm serious. I have a problem with these half naked models.  For single people? Okay. But these are married men and women… At the very least she should've let her guests know.
– "Are you comfortable being around someone you know has slept with your mate?"  O_O Guys.  The levels of Nene's messy nature has just taken on new heights.  Did she come up with these questions?
– "Do you feel comfortable with your lover being bisexual?"  And then she calls out Porsha!?  Nene isn't a real friend, yo.
– I am really appalled at Nene's messiness right now.  I'm serious.  Like….what? Wow.
Porsha
– What is she wearing (pajama party)?
– "I wouldn't be comfortable with my man being bisexual, or heterosexual, you need to be Porsha-sexual."  I'm honestly wondering if she's aware what heterosexual means cause….
Kenya
– I can't begin to understand what it's like for a woman who wants children to get the news that there's a serious chance that she can't (and on national tv!?).  In that moment, I felt for her.
– EXCUSE ME, DID I HEAR KENYA SAY SHE'S 47!?!?!?!?
– "Turkey baster" parties!?!?  Men, guard your sperm.
– I'm over her lying to America about her "African prince." He doesn't exist.  We've seen not one conversation happen between her and this invisible man.  Not a one.  And there definitely should be a conversation had since you're…trying to get pregnant!?
– Totally uncomfortable with them starting up a conversation with this sperm donor. Who does that?
– This list. Kenya isn't ready for children. Seriously. Wanting to see the rooms!? WTH?
– "Where is Apollo getting $8,000 to go blow in a strip club?" <—- WELP.  I think we know the answer to that now, Kenya!
– HOLD UP! Brandon is BOUT. THAT. LIFE!!!!!
Cynthia
– Peter said the strip club experience is more like being at an "office."  He's not the first man I've heard say that. ANNNNND he just got caught in a lie! LAWD.
Phaedra
– Phaedra and her "doing too much" events. But she looks BEAUTIFUL at this meeting with Dwight.  Her dress is appropriate, shoes and hair….YES.
– WTH is Phaedra wearing for the actual event? Ugh.
– Y'all see this interaction between Phaedra and Apollo? She is getting FED. UP. with him. They aren't looking like a happily married couple AT. ALL. Which is interesting given what we know now. SMH
– Oh!  Her second dress!! YESSSS!!!! (but do y'all get the feeling that this isn't about the baby?)
– Apollo talking about spending $5,000 in the strip club. BYE. "But that's MY money!!"  No.  You're MARRIED.  Like, what?  He seems to forget that. Often.
– She had to remind Apollo that he has children.  She should've reminded him that he's a felon as well.
Kandi
– When Don broke out into "Amazing Grace" I hollered for real.
– I don't have too much more about Kandi.  Other than it's interesting that she has to continue to validate her relationship and feelings to Todd.
The Fight
Okay, so Kenya got up out of her seat.  Yes.  But Christopher put his hands on her first. No sir.  So Brandon got up to tell him to chill. Now, Peter got in the middle of Brandon and Christopher, and Apollo got his "I gotta be included" ass up and did THE MOST with pushing Brandon down.  I would've swung on Apollo too.  And did you see how Apollo pushed Phaedra back?  Maybe it was adrenaline? Ummm and why was Chuck hiding behind Mynique like that!?!?!
If I were Kenya (who has definitely done some foul ish in the past) I would NEVER talk to Nene again. I'm serious.  She got the ball rolling with her messy self.  And then gonna yell at me!? NOPE! WHEW!  I'm amazed that Kenya didn't slap the fire out of Nene with putting her finger in her face like that. NOPE.
Wait.  And now I see that on next week's episode these chicks are getting together AGAIN!?!? Bish…WHY!?!?! Y'ALL DON'T LIKE EACH OTHER!!!!!???? This is the most immature shyt I have ever seen in my life.  I'm serious.  Leave each other the hell alone. I can't.
That's all I've got tonight, guys. Bout to go boil these crab legs cause…..