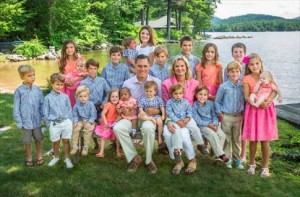 Sarah Palin is mad. Real mad. Here's why.
Mittens and his family took this Christmas card picture of he and his wife with their grandchildren. If you didn't know (by now I'm sure you've figured it out), one of their sons and his wife adopted a black baby.
Palin's problem is that the picture was on a segment of MSNBC's, "2013: The year in political ridiculousness." The panelists went IN. One of them started singing, "One of these things is not like the others, one of these things just isn't the same." Another panelist talked about how the picture is representative of the GOP.
Now. Y'all KNOWWWWWW I like to laugh. And if you were around me during the presidential election you KNOWWWWWW how I feel about Mittens…AND Sarah Palin for that matter. But. The day has come when I agree with her. *screams in horror*
I didn't see the segment, and I'm not sure what the point was….but maybe I'm missing something? I don't know, guys. Am I taking it too seriously??
Anyway, the host, Melissa Harris-Perry, has since apologized.
Full story from Daily News —> http://goo.gl/iHV8Yi