Silas Nacita. This young man has an AMAZING story, and was profiled by the Waco Tribune in November 2014. Here's a piece of his story, however, I'd encourage you to go read it all.
Nacita decided to transfer to Baylor and came out for preseason drills in August of 2013. But he found out he didn't have enough financial aid to enroll at Baylor, and ended up taking online classes at McLennan Community College last fall and spring.

Once again, he began couch surfing at friends' apartments. He even slept under a tree one night at Cameron Park.

"I'm a survivor," Nacita said. "It's never been something so outrageous for me to sleep outside. For most people that's crazy. But I went to Cameron Park and tried to figure out what I was going to do. The next day I ran into some people who said, 'Hey, you can crash with us.' I just kind of jumped around the whole year."

Determined to get another shot to play football for Baylor, Nacita began writing down his goals every day.

"The first one I wrote was I need a 4.0 GPA to get a scholarship because if I didn't get it done in the classroom it wasn't going to happen," Nacita said. "The second one was 2014 Baylor football playmaker. It meant I had to work and condition myself. The third was glory to God."

Nacita said he earned a 4.0 GPA during his two semesters at MCC and got his financial aid in order to guarantee that he would have enough money to attend Baylor.

One of the most difficult tasks for Nacita was staying in good enough condition to be ready for preseason drills at Baylor in August. He came up with some creative ways to stay in shape.

"It's really hard to stay motivated and train by yourself," Nacita said. "In Cameron Park, I was doing pullups and pushups and using rocks as weights. One time I was using boulders to work out and I was doing the military press. I picked it up and it broke in my arms and it hit me in the head. It was this huge rock, and I don't know how I didn't die."

Though older brother Isaac Nacita didn't know the full extent of Silas' living conditions, he began to learn more as the year progressed.

"When (Silas) found out he wasn't going to be able to go to school at Baylor that was definitely his most frustrating moment," said Isaac, an Air Force officer living in New Mexico. "But then he started figuring things out a little bit. When I visited him that year when he was in junior college, I was surprised by how he found ways to be around the team (at Baylor). I was impressed by his resourcefulness."

Back for preseason drills, Nacita impressed the Baylor coaching staff and his teammates with his work ethic and determined style of running. Though he's Baylor's fourth running back behind Linwood, Chafin and Jefferson, he practices like he's going to start every game.

"He has a lot of passion," Linwood said. "He knows he's not on scholarship, but he comes to work every day. He's smart and loves football and is very athletic. I thank him for what he does. He's just a great guy."

Chafin said Nacita's upbeat attitude is refreshing and he keeps teammates loose with his humor and different perspective on life.

"He kind of breaks barriers," Chafin said, "by saying random stuff and doing random things, it makes you more relaxed. He makes you more able to be yourself. His presence makes people around him better."

Meet 'Salsa Nacho'

After making some impressive runs during an August scrimmage, Nacita picked up the nickname: Salsa Nacho.

"Somebody tweeted my name on their iPhone and it auto-corrected Silas Nacita to Salsa Nacho," Nacita said. "I didn't know it would blow up where half the crowd is chanting it at games and kids are wearing sombreros with masks and signs. It's almost like this alter ego. It's funny and people seem to love it."

Following his first touchdown run against SMU, Nacita rushed for 104 yards and scored two more touchdowns in the fourth quarter of Baylor's 70-6 win over Northwestern State in the second game of the season. During Big 12 games, Nacita has made his mark on special teams.

Baylor running backs coach Jeff Lebby believes Nacita could be the featured back on many teams.

"There are a lot of places in America where he'd be the No. 1 or No. 2 guy," Lebby said. "It's just we're in a situation right now where we have some really good running backs and he's one of them. We're dang sure glad he's here and stayed the course through the entire process and is now making a name for himself."

Looking to future

Nacita hopes to eventually earn an athletic scholarship at Baylor instead of relying on academic scholarships and financial aid. He doesn't know yet what he wants to do after college, but he plans to go into a profession where he can help people.
Well, this story just popped up on my timeline (Twitter) and it broke my heart.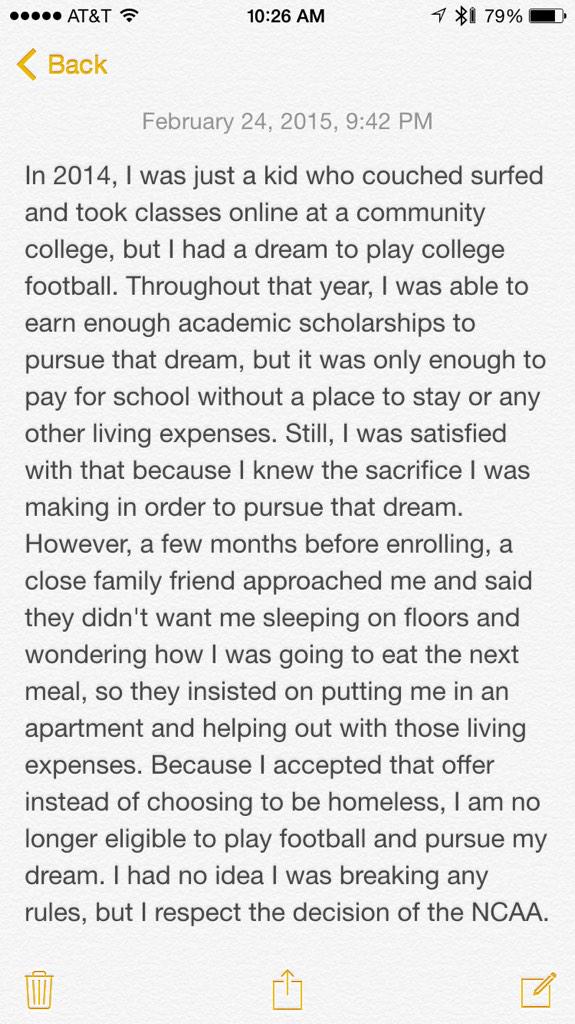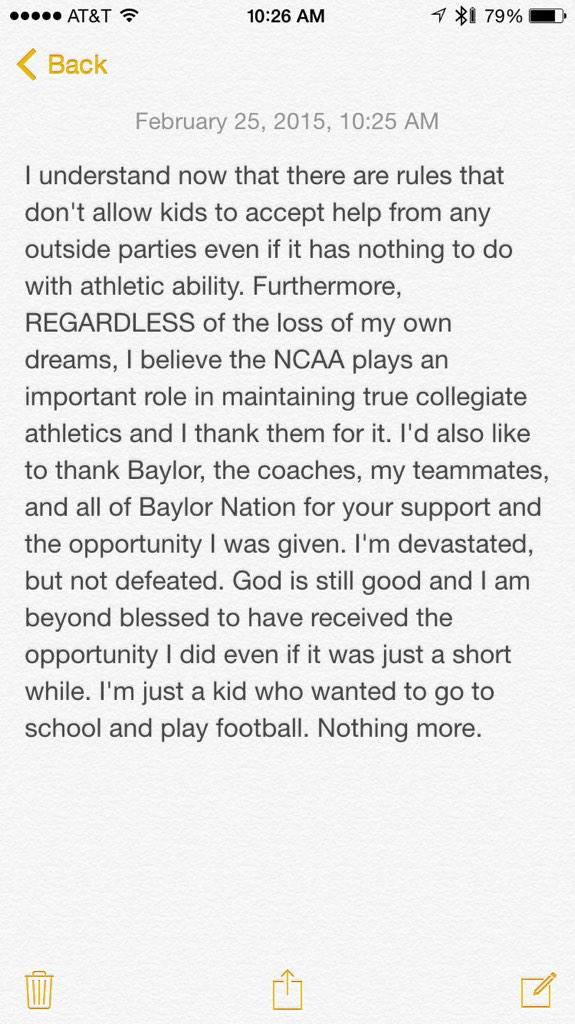 All I wanted to do was go to school and play the game I loved. pic.twitter.com/zYQ0HTaz05

— Silas Nacita (@Salsa_Nacho) February 25, 2015
I am almost in tears. This is just as unbelievable as it is disgusting and unfair.
This is a TERRIBLE look for the NCAA and they must be stopped. I find myself asking, "What can we do?" … but I come up short. And not just because of this case, but because college athletes are constantly getting treated unfairly by the NCAA.
Salute to Mr. Nacita for the class in his statement.
Salsa Nacho, if you're reading this, from one Baylor Bear to another, I pray for NOTHING but the best for you, and hope that you are still able to pursue your dream someway. The devil IS a liar and remember:
2 My brethren, count it all joy when you fall into various trials, 3 knowing that the testing of your faith produces patience.
– James 1: 2-3
UPDATED: February 25, 2015, 1:40pm
Soooo this just happened (pointed out to me by my Spec!):
The NCAA did not declare Silas Nacita ineligible and Baylor has not requested a waiver for him.

— NCAA (@NCAA) February 25, 2015
Um. WHET!?
*slowly turns head to Baylor University*
UPDATED: May 7, 2015, 12:45pm
I saw some more information on this and wanted to give an update.

Silas wrote an essay for Bleacher Report, sharing what's been going on since his unfortunate (and unfair) disqualification by the NCAA…

After the Bleacher Report article hit and news of my ineligibility broke, just about every top NAIA program called me and immediately expressed interest. Places in Iowa, Oregon, Kansas, Oklahoma, Nebraska—there had to be at least 10 programs that called.

It felt good to be wanted. I wasn't recruited to Baylor and I was always 'just a walk-on' there, but at this point, I'm way past the recruiting phase.  I've gone through so much, now it's all about just playing football.

I narrowed it down to two schools: Faulkner University in Alabama and Southwestern Assemblies of God University in Waxahachie, Texas—right up the road.

In the NAIA they can't do official visits and offer flights, so I really wasn't able to visit any of the schools that called other than SAGU. I didn't want to commit to a school without seeing it. I also know how important community is, so I didn't want to agree to play somewhere blind.

I visit SAGU twice. The first time I went to their spring game, coming from Baylor. I knew anywhere I went there would be a major drop off in facilities, but it was shocking how small it was.  I had just come from a new $280 million stadium and they were playing at a rec field in the back.

Even with that considered, the guys I watched were fired up. They were having fun. They were talking smack. It was football.

After the spring game, I drove up the following Thursday with the head coach, Frank Tristan, who offered to come pick me up. We talked the whole ride about what had gone on and faith. That man is not just interested in coaching; he's teaching kids about life. That was important for me. He seems like a great coach and a man of God.

When we arrived at the school, he gave me a tour of campus. My high school was bigger. They told me that I would be a big part of the team next year and were all very excited to have me. It's different from where I am came from, but they made me feel wanted and it was close to where I wanted to be. I was sold.

A big part of the reason I decided to transfer up the road to SAGU is because it's only 50 minutes away from Baylor. I can visit often, and that's still the plan. That's important to me. I am already planning to come back during one of the bye weeks to catch a game to support my teammates. I know that I won't be a student or athlete any longer and that my access will be limited. But there are people I care about here.

I'm finishing the semester strong with As and Bs. My last final is Saturday. That will be my last day as a Bear.

It's tough and sad. This is where I always wanted to be. This is the team I dreamed of for so long. This community, the coaching staff, my teammates and everything about the school was amazing. This was the pinnacle of everything I worked for, so of course it's going to be hard to leave.

At least I'll be leaving with a keepsake—a Big 12 Championship ring. To be honest, I wasn't sure I would get one.

It also feels better knowing that my friend, Wyatt Schrepfer, will get the same opportunity I once did. Wyatt came from Colorado School of Mines wanting to play at a bigger program. The day I found out I was off the team was the day he found out he was on it.

I essentially gave him my spot, and I couldn't be happier for him.

As one of my final farewells, we delivered pizzas to the library, together.

The plan is to head back to California once finals are done, where the journey began. NAIA is a lot less rigorous and we're not required to be out here for the summer. Most of the guys go home, so I'm going back to train and hopefully get a job.

I'll be living with my mom back in California. I'm excited because I haven't seen her in some time. I think in the past four years we've spent maybe a month or two together total. She sacrificed so much when I was younger and I know we really didn't get along.

But I want to give back. She's been so critical of how she raised us—raising four kids by herself. She did a wonderful job. Other than being in Waco training, there is no better option.

Once I get home, I need to be training. If I were in Waco, I'd be working out two or three hours a day. I want to do that same on my own. I'm not sure what job I will pick up.  It doesn't matter to me, as long as I am staying in shape and one step closer to my next goal.

If I have to, I'll go work at Chipotle. I'm ready.

After I committed to SAGU, I picked up my journal for the first time in a long time.

I had been writing "2014 Baylor Playmaker" or "2015 Baylor Playmaker" as my goals since 2013, but after I found out I was ineligible, I didn't know what to write. I didn't know what to say. I let it go and stopped writing altogether. I lost it, at least temporarily.

The day after I agreed to join SAGU, I found it again. I was ready to write. I had something to say. The first thing I wrote down was…

NAIA All-American.

Glory to God.
A happy, although bittersweet, ending to what was seemingly a career-ending decision.
Amen.