Okay. So check this out.  We know that Drake did an interview for Rolling Stone, right (Drake Isn't Feeling Macklemore's Apology To Kendrick Lamar)?  Right.  Well apparently, he was supposed to be on the cover of said issue (comes out tomorrow, I think), buuuut then this happened:
And Drake isn't happy about it.  His tweet about it:
"They also took my cover from me last minute and ran the issue"
This tweet has since been deleted.  Then he tweeted:
(This tweet has been deleted as well but NY Daily News caught it)
All respect but dammit I was promised the cover and I want it even if someone died! Much respect tho. Another piece of the puzzle is that some more parts of Drake's interview was leaked, including a part where he talks about Kanye West.  ALLEGEDLY. 
There were some real questionable bars on there," he says. "Like that 'Swaghili' line? Come on, man. Even Fabolous wouldn't say some sh*t like that." But Drake says he speaks from a bedrock of deep respect. "Kanye's the reason I'm here. I love everything about that guy.
Oh boy. But after that leaked this morning, Drake tweeted (NY Daily News):
"I never commented on Yeezus for my interview portion of Rolling Stone"
Again, this tweet has been deleted. "For my interview portion."  So what this tells me is that he DID say those things, but he DIDN'T think they were on the record. According to The Grio:
Rolling Stone backs their interview with the Toronto rapper and in a statement with MTV's Rob Markman, and say the quotes were on the record and an online copy will be available soon.
Artists, your mic is ALWAYS hot when talking to the media.  ALWAYS. Always always always. SMH.
The end result?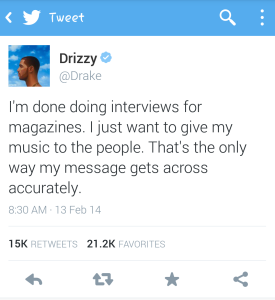 (this tweet is still up)
WELP.