We all know Rih-Rih IS NOT SCARED to speak her mind on these social media streets.  And she's done it again.  Check out her "Throwback Thursday" picture on Instagram.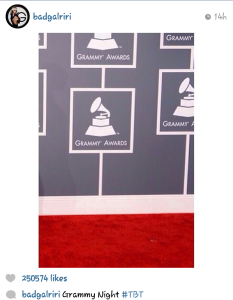 YASSSSSSSSSSSSSSSSSSSS, Robin! I'm here for this shade!
Rihanna's "Unapologetic" won a Grammy for Best Urban Contemporary Album, but (obviously) she wasn't there is accept it.  This was one of the categories that wasn't televised.  As I've said before, I believe hip-hop/urban artists should not support the Grammys anymore.  If you're good enough to perform for ratings, then you're good enough to have you accepting your award on stage aired.
Email: TashaSays@outlook.com
Twitter: @TashaSaysdotcom