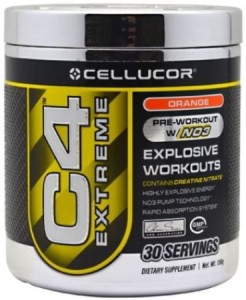 So I have decided to try a pre-workout.  I really want to get into working out regularly, but I just have zero energy to do so.  I used to try and do it in the morning, but that got REAL old REAL quick.  I was missing out on sleep and would be absolutely exhausted during the day at work.  That's a horrible feeling.  And going to sleep at 9pm is basically impossible for me.  My body just doesn't work like that.  And trying to do it after work? Tuh.  NOPE.
I heard about this stuff and while researching I came across the Amazon link. DUH! I can read the reviews for Cellucor C4!
So…that's what I did.  And…I'm a wee bit concerned:
 This will cause health problems, February 12, 2014

At first I though this product gave me a great boost. After a week I had chest pains and was concerned about a hearty attack and had a bad reaction to this product and I almost went to the hospital because of it, I am 22 years old so this is not common.

After I stopped taking it my body got back to normal and I tossed this in the trash, I would recommend you find another energy supplement as this is just not worth it. There is a reason its not accepted in the military or nfl/professional sports.
So.  Possible heart attack.  Ok.  Got it.
 Great for the gym or shoveling snow, February 14, 2014

I'm relatively new to lifting weights. Been at it for just over a year. I'd read some things about preworkout powders and decided to give this one a try after reading the good reviews. I go to the gym after work so I'm usually kinda tired before I touch any weights. One scoop of this stuff had me pumped up and focused through my whole routine. Even powered through my cardio and didn't want to stop. Didn't feel jittery during or after but I did experience a mild tingling sensation on my face and scalp 5 mins in. That subsided quickly though. I live in MD and we recently (2/13/14) had a pretty severe snow storm. I woke up to 17 inches of snow in our parking lot. I decided to turn shoveling snow into a workout and took a scoop of C4 beforehand. 3 hours later both mine and my wife's car were cleared out and I felt pretty good. I definitely recommend this product!
Face and scalp tingling, and a three hour workout. Ok.
 A healthier version of crack.. I think., February 17, 2014

I was told to try a half a scoop when I first started, but decided to do 1 full scoop and i must say it felt weird/awesome. I starting getting really itchy after about 15 minutes and then had the best workout of my life. The workout was so good and made me feel like I could lift any weight I wanted to that resulted in actually hurting myself lol. I take about 2 scoops now to get that sustained energy without so much of the itching now which is good. The anxiousness has disappeared as well after about 2-3 weeks of getting used to it.

Overall this product is amazing and shouldn't be overlooked if you are a serious athlete or exerciser like myself. Our bodies can't naturally do what we want in this day in age so we need a little extra kick and C4 is 100% that.

If you don't need to push yourself past your limits for over an hour then sure save your money, but if you want to test those limits and usually have a longer workout buy it and take it before every one.

good luck!!
This entire first paragraph is … concerning.
 Jittery mess!, February 20, 2014

This made me into a jittery mess. I did not like the brand of "energy" that it delivers. It was really harsh and kept me feeling like I stuck my hand in a light socket. Not in a good way like a RedBull.
There's a "good" way of feeling like you put your hand in a light socket!?!?!?
 

Perfect scoop of motivation, February 24, 2014

Just got back into lifting after a year off. I was fat, sluggish, and un-motivated. I purchased this about a month ago and it has changed my whole outlook. I still am fat but I now feel motivated to get in the gym everyday. One scoop 15 minutes before my workout and I am ready to go. I like it becase I don't feel jittery or "tweaked" on caffeine but I do feel the energy while lifting.
"I am still fat" <—- LOL!!!!
 

This stuff is intense and so the rest of this review will be in CAPSLOCK!!!!,February 26, 2014

FIRST OFF THIS STUFF TASTES GREAT JUST LIKE PINK LEMONADE AND THEY HAVE A REAL NICE SELECTION OF FLAVORS TO CHOOSE FROM, SO YOU HAVE SOME OPTIONS! I DO A 3 DAY SPLIT SO ONE SCOOP IS MORE THEN ENOUGH CAUSE THIS STUFF IS VERY POTENT, YOU WILL FEEL IT REALLY KICK IN ABOUT 5-10 MINUTES AND YOUR GOOD TO GO! YOU WILL FIND YOURSELF BENCHING EVERYTHING IN THE GYM INCLUDING THE BENCH ITSELF, SO IF YOUR LOOKING TO GO HAM MAKE SURE YOU START WITH THIS! LASTLY IT DOSENT MAKE YOU ALL JITTERY LIKE NO EXPLODE DOES SO THAT WAS A BIG FACTOR FOR ME! SO GO BUY THIS STUFF IF YOU NEED THAT EXTRA KICK IN THE GYM, WORKS GREAT!
"You will find yourself benching everything in the gym including the bench itself."  Good Lord.
 WTF????, February 28, 2014

What the hell did you guys put in ths stuff?

I took it just as directed and boy oh boy, by the time I got to the gym I wanted to eat up the weights, I mean I felt as if the devil himself had gotten inside of me.

Long time ephedra user I have given it up in favor of C4, no longer heart pounding at night or jitters, it works within 20 minutes and it only leaves you with a nice pump whether you are lifting or running.

A definite winner,

Thanks!
I'm extremely emotionally confused with this one.  First, because I see that there are 5 starts given. Then the title is "WTF"…and the whole "I felt as if the devil himself had gotten inside of me"…but the ending states, "a definite winner."
WUT.
 Your never go wrong with Cellucor, March 2, 2014

C4 is the best pre-workout on the market. Ive been through MANY cycles of C4 and ive never grown tired of the taste. Its almost as if Willy Wonka himself is making this stuff. When i take C4 i automatically know its going to be a great workout. If taken correctly it puts you in the focus state of mind which is hard in most pre-workouts. Mix Blue Raz with pink lemonade and make a great tasting cotton candy drink. Buy it, use it, throw weights around like a monster, get big and when your done recover with Cellucors non-stim Alpha Aminos. Everything Cellucor touches is Gold!
 "Throw some weights around like a monster." I…don't think this is something I should be doing?
Anyway, there are A LOT of good things being said about this product. It's just that there are also so VERY concerning things being said about this product!! Looks like the best course of action is to take as little of it as absolutely possible and work out AS. SOON. AS. you're done drinking it?
:-/