Shoutout to one of my faithful readers for pointing this out to me last night (hey, Donie!)!
So y'all remember from Monday evening when Joseline was leaving Stevie cause she needed a break? When she went to go chill with K. Michelle cause she didn't want to be around Stevie J?
Here's a photo from that evening….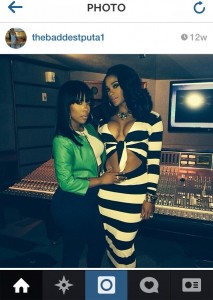 And y'all remember how she left and went there without telling Stevie where she was going? Right?  And how she didn't want to be around Stevie? Right?
But…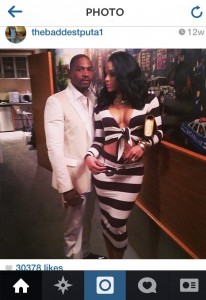 I guess 12 weeks ago (when the photo was posted by Joseline on Instagram), Joseline wasn't aware that Stevie wasn't supposed to know where she was.
I considered that maybe this was two completely different times. But nah. Both of these photos were posted on the same day.  And I understand wearing the same dress on two different occasions, but the same exact hair? Necklace? Bracelet? Nah.  These pictures were taken the same night.
Oops.
We see past your lies, Mona. SMH