I am fiiiiiiinally all caught up with Real Housewives of Atlanta! Yay!
I'm gonna go over the most recent episode and touch on a few things from the last 3 (or was it 4?) that I watched as well.
Kandi & Todd
Let's go ahead and talk about this marriage. First of all, we all know it isn't going to last. We know this. You know it. I know it. But…since they are still married we can act like there's still hope. Going to counseling was a great idea of Kandi's and Todd being willing to do so shows that he has an interest (no matter how little) in saving his marriage. However, while I know we only saw a piece of the session, I sure do hope more comes from it.
It is clear that Todd was holding on to things that happened even before they got married. For him to bring up the prenup shows that there was some injury there. He quickly brushed over it by saying he was cool with it now, but that's simply not the case when it was so heavy on his mind that he brought it up in the first place.
Todd stated that when he comes home he feels like he has to deal with a lot. For him, home = stress. And who wants to voluntarily be stressed out? Kandi's mother was enough! BUT. And this is a big one…they did this to themselves by getting into business with each other on top of everything else. Nope nope nope. That was a terrible thing to do. Now home is also the office, he's stressed out, they are trying to work out a blended family, he would rather be away from home, and sex has already started to go downhill in a 6 month old marriage.
The therapist gave them homework. They were supposed to go out and have a date night. GOING OUT TO HANG OUT WITH YOUR FRIENDS AT AN EVENT IS NOT A DATE NIGHT. As soon as they walked in the door, Todd went one way and Kandi went another….while both parties talked about everything but their marriage and to everybody else but each other. That was not the assignment.
One thing for sure, Todd has totally emotionally checked out. You can tell by his body language toward Kandi. He looks worn out.
Kandi
Your mother is holding you back and messing you up. Period.
Cynthia
This is from last week….but REALLY? No matter the situation or how you feel, that was SO inappropriate. I am disgusted with her. To bring that up (1) when y'all don't have an issue with each other, (2) when you don't know if it's true, (3) in front of other people who had no idea AND WHO DON'T LIKE HER, and (4) right after going through the hell Phaedra has been through? That showed a total lack of class on Cynthia's part.
Also…her money is gonna run out fooling around with Peter.
At this one on one dinner with Phaedra, the FIRST thing that should've happened is an apology from Cynthia to Phaedra. This was a stupid idea.
NeNe
I am so confused. She totally acts like she doesn't have anything for these women, but is in the psychologist's office trying to further hash out issues with Cynthia? There was a time when there was an invitation for this conversation but she said she wasn't interested. But I guess we can all change our minds.
For the record, I do feel as if this is a good idea. I think that sitting down and getting it ALL out on the table and deciding on where to move past that could be beneficial. Not necessarily with the intention of being best friends, but at least to get to the point where you don't want to snatch each other every time you're close to one another.
Oh. And I see NeNe leaves the conversation next week. Shocker.
Phaedra
Look. These ladies better leave her alone. She is about FourFive seconds from snatching the very edges off of one of their heads. I can't believe how insensitive some of these ladies are being toward her. She's just been through A LOT. My goodness. I mean, I haven't agreed with everything Phaedra has said/done, but have a little compassion, you know?
Claudia
As I've said before, I admire her for wanting to put things out on the table and not letting issues linger, HOWEVER. At an event (previous episode) honoring said person IS NOT the place. Are you serious right now? Come on.
I have the feeling that, because of her background and experiences, she has a strong desire to be understood and generally liked. And that's not necessarily a bad thing but when you're dealing with someone who is acting like a child (Porsha), then you just have to let that go, Sis.
Kenya
This struggle movie is not gonna make it (previous episode(s)). It's actually kind of silly and THAT is why Roger Bobb doesn't have time for you, ma'am. Writing a script based on your petty issues with other petty women is just not the business.
Porsha
*clears throat*
Excuse me, but did Porsha say (previous episode) that Peter is AWL up in Atlanta sleeping with every woman who will spread her legs open?
Whew.
……….
Well that's that. I'm interested in seeing how next week's episode is going to play out. I wonder if anything will actually get resolved…
Oh. And I just saw this…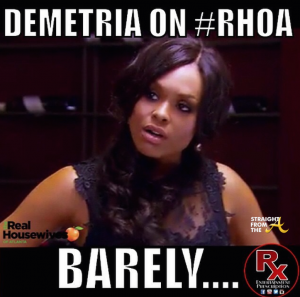 Whew.