And it is THIS….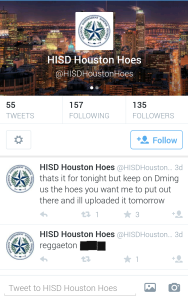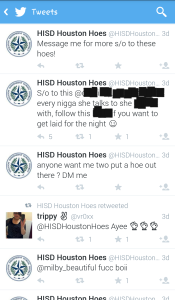 Houston Independent School District.
Yes.  What you are looking at is a twitter page created by some of the children of our future.  Yes.  The name of the Twitter page is, "HISD Houston Hoes."  And yes, the children of our future are using this page to put hoes that go to HISD schools on blast.
This is happening right now.
The page is actually disgusting.  Some dude posted a picture of some chick's USED pad (from Milby).  What does that have to do with being a hoe?  At least she isn't procreating ya know?  But yeah.  There are also pictures of vaginas on there (depending on the age this could be a felony, huh?)…that young girls have sent their "boyfriends" or whatever…and are now all up on the internet.  SMH.
I hope these youths know all about IP addresses and such cause you better believe there is an investigation going on.
RIP to our future, y'all.