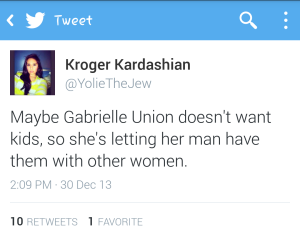 According to MediaTakeOut.com, Dwayne Wade just had a paternity test done on a newborn…and…he's the father…Um….
In case you missed it, he just proposed to his longtime girlfriend, Gabrielle Union.  Congratulations to the happy couple and their new baby from one of Dwayne Wade's side chicks!!!
However, it COULD be that Gabby didn't want to get pregnant…so they decided to….I mean…it's possible, right?
MediaTakeOut post —-> http://goo.gl/Y3ATPI

UPDATE: According to People.com, YES, Dwayne Wade fathered a child while on "break" from Gabrielle Union earlier this year.  And she's okay with it.  You know what?  Y'all aren't fooling anybody. And Gabby, are you serious right now?  So y'all go on a "break" (was anybody else aware of this?), and he FATHERS A CHILD!?!?  BYE, Gabby.  HOWEVER…this IS a woman who was dating a married man… Whatever.  To each his own I guess.
People post —–> http://goo.gl/Bi4Vr2